The DREDGE Pump MB-LL80B-4 is developed for the MOBITRAC.
It can be used for sediment pumping and also for the pumping of algea, beach cleaning, or collection of other debris that is floating in the water.
This pump is for dredging slurry, from ponds and other water areas. And designed to fit on the lift-arm of the MOBITRAC
The pump is be regulated from a start panel on its own engine and close to the driver.
When the sediments are other than light and soft material, it may be wise to discuss the type of pump you may need.
The DREDGE pump MB-H180 (centrifugal open impeller version) has a separate power pack that can either be placed in the front of the driver or on the backside of the MOBITRAC.  The pump it self can be attached to the lift-arm or to the excavator unit.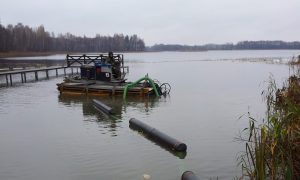 Dredge pump technical information
Details MB-LL80B-4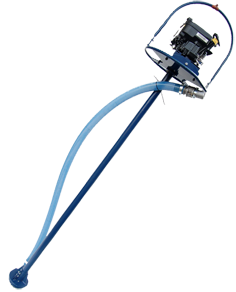 Working depth 8 ft.
Weight 140 lbs.   
Pumping distance 490 ft. 
Engine Briggs & Stratton 5 HP.
Max. FLOW per hour 15.850 gal. Water 
Details MB-H180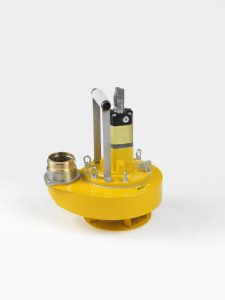 Working depth depending on hoist.
Weight of pump 60 lbs.
Weight of Power pack   176 lbs.   
Water Head max 52 ft. high
Max. FLOW per hour 47.551 gal. Water