Trailer 
Use of the trailer's ramps enables MOBITRAC to access and leave the trailer with ease. When the trailer is loaded with the MOBITRAC, it can be towed with a standard car. (Fast traffic).
Since the MOBITRAC itself can be driven directly to the site and is easy to use. It's a one-man operation, further reducing its low operational costs.
The trailer comes with 2 ramps for easy driving on to the trailer, and has various connecting points for locking the machine for transportation.
Transportation Storage Cover  
This cover will allow you to cover the MOBITRAC completely for either storage or transportation long distance. Made of durable material, that is water breathing but water resistant up to a certain extent.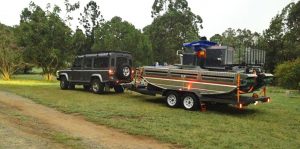 Trailer
TECHNICAL DATA OF TRAILER
Length of bed: 16 ft.
Width of bed: 83 or 84"
Weight: 5000 lbs.
Ramps: 2 Plates
Machine Travel Storage Cover